Dan and Casey speak to a user from the Support Wall who is stuck in a cycle of loneliness, and it feels like there's no way out:
First Look:
Have you ever given up and told yourself "None of this matters anyway, why try?"
Briefly jot down things about that time - what happened, when it happened, and how you felt
In the video, Dan and Casey both talk about their own experiences wrestling with a situation that felt completely hopeless. There are so many stages and levels of complexity to despair that sometimes we don't even know if we would even want to swim to the surface if we knew which way was up.
Casey speaks to the user about feeling like there's only one way out of a situation. He clarifies that so often we convince ourselves that there's only 1 way out, 1 thing to do to overcome something, and when we don't feel like we're able to do that 1 thing, we might as well give up. For the user, believing that their loved one who they lost was the only reason that others would want to love them is the lie that must be confronted.
As Dan and Casey mention in the video, your only hope …isn't your only hope. Just as there are layers and complexities to despair, there are myriad ways to get out of despair and find hope. Any Bojack Horseman fans out there? It's kinda like this gif.
At first you think you know what hope is, that you've already tried it, and that you're not 5. Then you look into the kaleidoscope.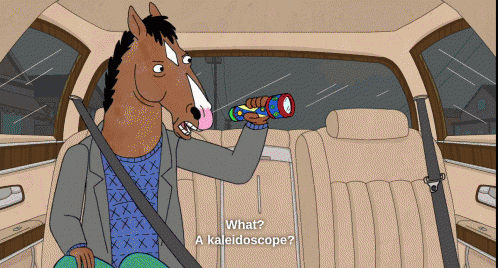 Deeper Questions:
Think about that time where you had trouble finding hope. You're still here, which means you've made it to a new day! Take a second and congratulate yourself.
The fact that you're still here means that you, even if it's on a tiny level, said to your challenge, "No. You don't have power over my entire life." What your next step to find hope?
Most times, finding hope is really hard. Take some time and draw out 2 columns on a piece of paper. On the left hand side, write the phrases that you're telling yourself about your situation - things like "I can't go on" "It isn't worth it" or "I'll never get out."
On the right hand side, write the opposite of the left hand side. Don't worry - you don't have to jump into these yet! Jump simply write the opposite of the left. For instance, if you wrote "I can't go on" on the left, simply write "I can go on" on the right. Take your time here, really go to the depth of your feelings.
Fold the paper in half over the vertical line. Turn the paper so that the right side is facing up, and leave it in a place where you'll see it. Read it each day. Use this to help you begin your recovery.