Today on Instagram Live we made gratitude lists! Five minutes of gratitude every day is proven to increase a person's happiness by 10-25 percent, which is MORE than if you're income was doubled.
Our community came together to create a list of all of the things we are grateful for today!
Here is what we came up with!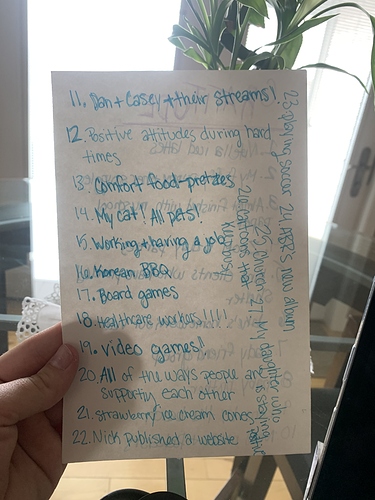 HeartSupport Community Gratitude list (thank you to all who participated!)
Nutella iced lattes
Fluffy puppy snuggles
Finishing school projects
Zoom Birthday Parties
Kind people who have provided shelter
Jake's home workout videos
Lady friend group
Baby brother
Runs by the beach
New music and podcasts
Dan and Casey and their streams
Positive attitudes during difficult times
comfort food, specifically pretzles
My cat!
Working and still having a job during this time
Korean BBQ
Board games
Healthcare workers
Video games especially 2K
All of the random ways people are supporting each other and coming together during this season
Strawberry ice cream cones
A newly published website
Playing soccer
ABR's new album
church
Cartoons that keep kids occupied during the day
My daughter who is staying positive during this time
If you're having trouble coming up with things to be thankful for today here are some ideas to get you started.
Was the weather nice?
Did you eat something delicious?
Were you able to connect virtually with a friend?
Did you try something outside of your comfort zone? (this gratitude list could be just that!)
Challenge
My challenge to you is to create your OWN gratitude lists! Once you create a list with at least five items post a picture below!
BONUS POINTS: if you post a picture of your gratitude list on Instagram and tag @heartsupport!