Hey guys. I feel awful, about how i handled this situation, but I'm just wondering how other people would have handled this?
At the end of last week, the UK had what is supposed to be the hottest day of the year, and honestly, the heat here is just unmanageable due to the fact that the humidity is always 80% or higher when any type of heat hits. Anyway, that day I met this homeless woman in town, about my age, 26/27 and she was quite heavily pregnant. She asked me if I could get her a cold drink, and so I did that, and sat and chatted with her for a while. Now, that in itself was a decent day because I fund another possible support group in person from stopping with her - however, things have been bad since then. So that day, I gave her enough money for a hotel until she was able to move into the flat the council was prepping for her, and a little extra to get food. Looking at her phone, this girl didn't really have any friends, so I gave her my number just so she had someone to talk too. Later that day she phoned asking for another £20 because the hotel fucked her over (I gave it to her because I know what places are like here in my home town). I text her the next morning asking her how she was etc and I got no reply. 2 days later she phoned me asking me for more money because apparently her mum had died and she needed to travel cross country - I said no because I'm struggling financially myself. She huffed and hung up the phone. A couple more days went past, and she text me again… It's easier for me to show you how she tried to guilt trip me than it is to try and explain it.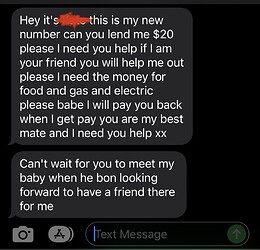 This was the second occasion I had told her no - I don't have enough.
Today she phones me to say that she had given birth to the baby and that she was going to need some money to get home when they discharge her and food etc. So, being the idiot I am, I believed her and gave her the money.
Apparently that wasn't enough for her because she phoned me a 3rd time half an hour later, pretended to ask me what I was doing how I was etc, and cut me off halfway through to say she needed more money.
TRIGGER WARNING FOR SH. I told her no, I had already given her more than I could spare, and she proceeded to try and emotionally blackmail me by saying "I'm sat on the floor in the bathroom with a blade self harming because im so stressed and I don't know what to do" TRIGGER WARNING END
She told me that her mum and her landlord couldn't help her, but I stuck by what I said originally, which was no. She hung up…
After that, I realised I had caught her out in a lie because just the other day she said her mum had died? This had me thinking… When I met her last week, she said she was 7 months pregnant. If she had given birth that early, he would not weigh what she said he would weigh, and they would be held of observations and especially not discharged the same night. After this came to light, I blocked both of her numbers so she can no longer contact me because I do not have the mental strength right now to deal with emotional blackmail, constant requests for money and persistent lying… I feel like such an idiot for even giving her the money I've given her in the first place, but also feel awful blocking her.
If you managed to stick around and read this whole thing, thank you, i know its a long one, but if you did get here, how would you have handled it? Would you have given her the benefit of the doubt at the start too or would you have been more clued into what was going on?