Firstly, I posted my "yearly facebook post" last night, with this meme: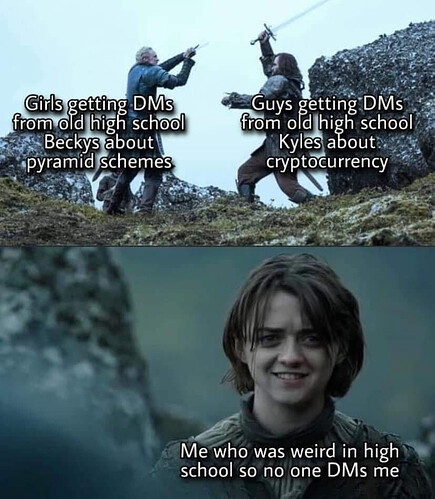 and now someone from college is messaging me. originally it seemed they wanted to hang out because they moved to where my school is, but i am doing it online, so… I told them that and they're asking me questions about it and I am just kind of like… why ? we weren't close and talked on a few occasions, but they eventually showed interest and were wanting to go out with me but I turned them down since I saw them only as a friend.
so i am confused. why are they messaging me out of the blue? I guess maybe they did just like me and want to be friends, but it feels so random, you know?
TW: Self harm
yesterday i relapsed and have been trying to be gentle with myself. I said something in a fanfic writing discord network - which was more or less that I've noticed fanfic nowadays tend to be of lesser quality and don't have spell check. are people seriously writing these on notes app or directly in tumblr? pretty much everything has spell check nowadays… and someone got super mad at me because I was being rude and could have hurt people's feelings. They were basically just an asshole and got overly hurt. I wasn't saying anyone in specific or anyone in the net either, it was just an observation. I wanted to understand why people felt comfortable putting out such shitty works.
They were really rude too, because I mentioned how I don't think this is because I have my degree and experience, and called me an 'experienced writer' that should offer beta services (which 1. makes it sound like a chore and 2. I do offer to beta read…) I never claimed to be a great writer, I was just saying that maybe I noticed it more because of my degree?
This person even @ me and demanded I apologize, then immediately @ the admins to delete everything. And I did, I said I wasn't trying to start anything and I just wanted to converse on it, and blah blah blah but they kept being like "apologize" and it was just. terrible.
Then the admin was like, you could have put this in the vent channel instead and deleted almost everything, except for this person when the @ the mods and then proceeded to thank them for deleting everything. (So i messaged my mod friend and was like, "why didn't they delete what they said?" to which she told me the other mod was at work and probably forgot, then deleted what that person said)
I feel like I always unintentionally cause drama like this. I didn't think it was thoughtless or inappropriate, especially because I wasn't calling anyone out. I was being very harsh, and I totally recognize that. But at the same time, I genuinely cannot understand why people feel comfortable putting out such poorly written works, and then why readers love those so much. It really hurts me because I put a lot of time and effort into my writing, and I'd like to think the quality is ok. I know I don't post as much, but at least I don't post terrible grammatically incorrect writing and say "sorry this is unedited < 3". and no, this isn't even about people whose first language isn't english. their writing often is better than this unedited crap TT
as you can tell it makes me mad
and i ended up cutting again because I just couldn't control the urge and didn't have anything easy to do.
I'm also stressed with hw and assignments. It turns out I forgot to turn something in last week, but my teacher is giving me until Thursday to submit it with no penalty. I have a different assignment due tonight, and many due friday. except I work wednesday and thursday, even though I thought I took off thursday -_-