Hey folks,
I'm feeling pretty okay as of recent. I've had my ups and downs. I've graduated high school and I'm enjoying my time of not having to be busy. Had my grad party last weekend so now hopefully I will never have to think about high school again.
One of the haunt actors I worked with passed away yesterday, and it hurt. It didn't hurt as much as it did with my grandma, because I only knew him for 2 years, bur it sucks. He was a tough ass old man who owned a hearse and rode motorcycles. Didn't show his age at all. Heard from someone else that he passed away yesterday morning. I think, more than anything, it reminded me that there are a lot of people in my life who are nearing the end of their life, and it's making me sink in the idea that nobody is here forever, which is really hard for me to handle. It will not be the same without him, and the haunt crew will be affected drastically because he had worked there for over a decade. It doesn't feel real that someone like that can just disappear. It hurts, man.
On a separate, more lighthearted note, I have been focusing on my path to college. I think a lot about college and what I want for myself. I think the clear answer is to be happy with what I'm doing and being sure that when I leave college I can continue to be happy. For the past 4+ years I have lived in constant dread because other people and things dicated how I lived my life. But in college, I'll have the creative freedom to pursue my dreams of monster making. I'm hoping that the new lifestyle change will bring me a healthier body and a healthier mind. Perhaps once I lose weight and feel better about myself I will go into the dating scene. I'm willing to take on the opportunities available to me in hopes that life will guide me where I need to be, and I hope that one day I will find inner peace, be able to sit down beside myself as I am now, reflect, and be sure that my life has found purpose.
I've been thinking a lot about the vision I have. For those of you who have read my posts before, you'll know that I have this reoccurring vision where I stare out the window of a tall apartment building and watch the sun rise and fall, holding a hot coffee and feeling it get cold, then feeling a sense of peace and finally being able to say that I have found true purpose and acceptance of my life. This scene is triggered by music, something that is slow and moving. Whenever I hear music like that, it snaps me into that vision. I hope one day I will be happy overall, because that vision is so blissful.
Anyways, I kind of went off the rails there. Here is my new mask, Festwring Fred. Very realistic and super creepy. I hope you enjoy, and I want to know what you think!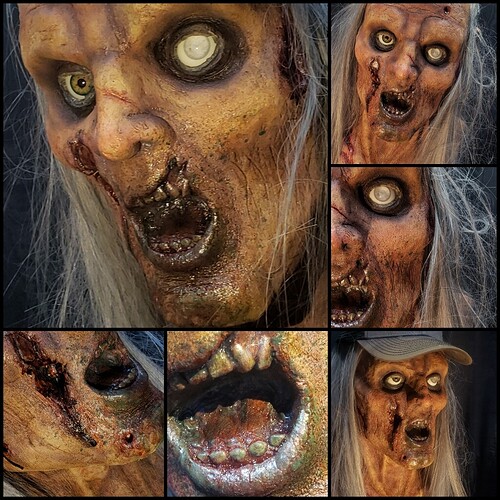 Thank you for supporting me

-HMM