So i made myself a self-care journal thingy to try and make sure I'm doing things every day to take care of myself physicaly and mentally, i talked about it a bit on Casey's stream the other day, but wanted to share it here too. So i did a grid thingy for each week of the year, with the days of the week going down one side, and the goals going across the top, and then i check things off each day when ive done them.
This is the grid, and the key that explains what each picture means: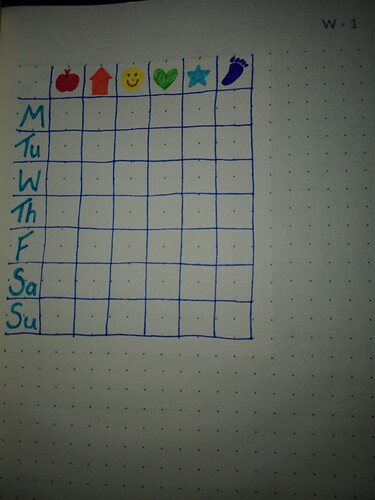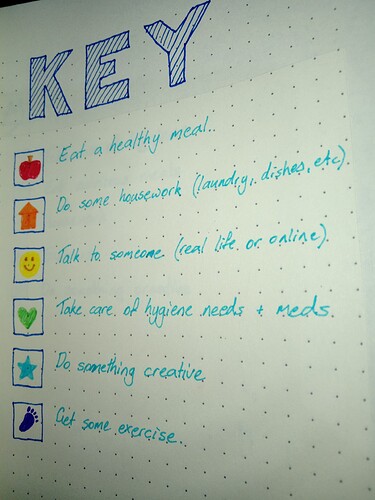 I know it mostly seems like small simple things, but it's all things that i struggle to do when dealing with anxiety/depression. Next year i might try something that is more specific and measurable, but for now honestly it would be a massive achievement just to do a few days where i can fill up the row with checkmarks.
So for the eating one, when im feeling down, i tend to just snack unhealthily through the day instead of having actual meals, which isnt ideal, so i want to start by having at least 1 reasonably healthy meal each day. doesn't matter which meal, and doesn't have to be super healthy, just as long as its got some nutrition, like veges or fruit, or whatever.
For the housework, i am currently working on getting my house tidy, but the chalenge will be keeping it that way. So trying to do at least 1 thing each day that contributes to keeping the house clean. like doing dishes, or laundry, or whatever.
The talking to someone sounds like a silly thing, but because i live alone and im not currently working, its very easy for me to go days without actually talking to anyone, and thats when i tend to start overthinking things and getting stuck in my own head, and i end up isolating myself. so i want to make sure each day to talk to someone, either in real life or just messaging online, or whatver. doesnt matter what its about, just to get out of my own head for a few minutes each day.
The hygiene/meds one is pretty self-explanatory, basically make sure i shower, clean teeth, brush hair, etc. each day. again, sounds like a simple thing, but its another hard one for me on days when im feeling low, it gets hard to care about myself.
For doing something creative, thats my "something that brings me joy" goal, because making stuff brings me joy, but i tend to forget that when im down. Ive also got the goal to do 3 watercolour paintings each week, so that fits in here. Other tahn that it can be anything, like sewing, clay, papercraft, crochet, even building something on minecraft.
Then the last one is exercise. i have chronic fatigue syndrome, which means i cant do lots of exercise all at once, and some days i dont have energy for much at all. so this one is just going to be whatever exercise i can manage that day. some sort of physical activity. some days i might be able to manage a walk around the block, other days just standing long enough to do the dishes will be all i can manage.
i know that some days i might not be able to do evrything, and thats going to be a challenge in itself, to continue trying even when i cant do it perfectly. i did this on the cover of the journal to try and remind myself.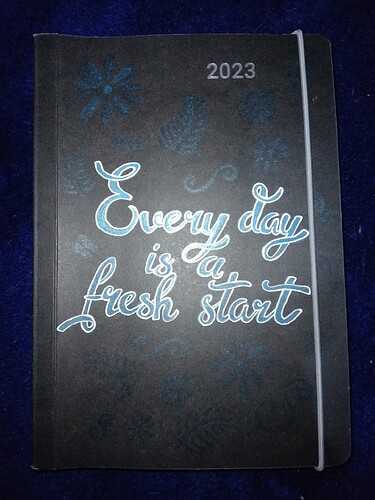 so i guess my overall goal for 2023 is to keep using the journal for the whole year, and to give myself permission for my best to be enough, even if its not perfect.