I'm super overwhelmed. Everyone is asking me how job hunting is going since I graduate next month, and I don't want to admit the truth. I haven't been looking. Im doing everything I can do to not fall apart. I wake up 2 hours early so I don't have to walk as far to my internship. Tonight I didnt get the chance to eat dinner until 8:30… and my lunch was 11:45.
Now is the last month of school, so also the busiest. Tbh its less than a month. I need to do well this semester and haven't had enough time to do homework and readings ever since my internship started.
I love my internship. I am working on Metadata in the local college's archives. I love my supervisor and we have a lot in common. I added next Friday so I would have all of my hours. But my mom keeps practically yelling at me to finish this month. Its just not plausible. I have an assignment due this weekend, and I need some time to do my other homework during the week. She literally said something along the lines of "I know you think im being a jerk"! She's thinking worst case scenario that something will happen to me.
My mom has been getting on all of my nerves. She procrastinated intensely on my taxes, and made it so I owed taxes. I'm fairly certain my previous job took out taxes before giving me my paycheck, but my w2 or some paperwork said else. But obviously on Easter or late today I couldn't call and ask!!
And every time I tried to get in the shower she needed something new, and ended up claiming she needed some form that doesn't even exist for me. In the process, it looks like I owe school over $2k, and im not sure why. So that's fun.
I need to call work tomorrow and talk to my supervisor. I'm not sure what to tell her. I feel bad I can't give her a proper 2 weeks notice, but with how suicidal I've been all day and stressed I've been, I can't. I haven't had time or energy to decompress, and I started pulling out my hair again. Its not fun. I dont know what to tell her. And that scares me.
I jinxed myself this morning. Someone was talking about a patient who dipped after being super suicidal and I was like "wow, I've been doing good. I haven't felt that way in a while!" And here I am. Extremely suicidal.
I'm praying its just from exhaustion and ill feel better in the morning.
But I don't want to wake up to my mom being a bitch.
I feed off of other's emotions, so when she's stressed and not trying to cope it gets super bad for me. So, her procrastinating was/is super painful for me emotionally (and now physically since its that much emotion).
I also need to get a psych still. I was thinking about online and when I mentioned it, my mom got pissy. She would rather me see someone who doesn't take insurance and I have a bad feeling about. And she tried to get me to explain this bad instinctual feeling. Like what, do you want me to tell you she plays with demons ??? That makes me sound extra insane.
So yeah, my back is in a shit ton of pain.
Good news is I got the kpop stuff I bought! My lightstick is super pretty! I didn't get either of my biases' photocards in the albums, but they're also my first girl group albums!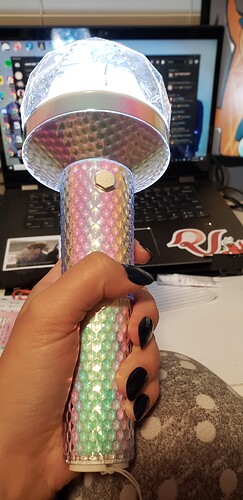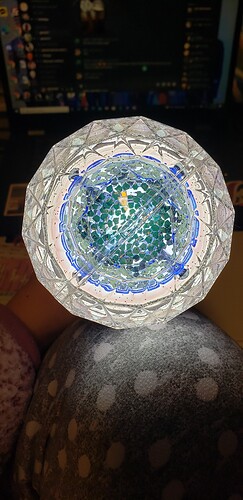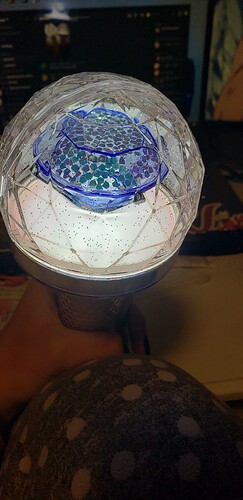 I think its super pretty

the prettiest one out there lol