I picked up and started to read through Dwarf Planet and one of the first things it asks you to do is to draw a picture of yourself when you're depressed or a picture of how you envision it.
I decided to share how it sometimes can feel or look like for me.
Depression sometimes for me, can feel lonely and isolating even though I am in a room full of people that I love and care about. There are moments where, even when I know that people are there, I feel overwhelmed by a blanket of loneliness. It feels like I'm alone in the ways I'm feeling, even if it's not always true.

It often feels like all of the weight in the world is coming down and crashing on me. Overwhelming amounts of pressure and heat

There are times where I feel like even though I know people love me, care and are there that they may not fully be able to understand what I'm feeling, which basically leads back to the first thing I said.
The bubble surrounding me in the picture are things like: My anxiety, stress, autism, ADHD, PTSD, the pain I fight daily, fear, my health, weight, insecurities and the stress and hurt within my family. All of these things feed the bubble that surrounds me and all things that I often feel like I'm fighting alone in even when I'm surrounded by good people. Sometimes it's because I don't know how to talk about these things or I don't know how to express myself properly. Sometimes it's because I guilt about sharing what's going on with me or I feel stupid. Other times I just don't have the energy. And it all just cycles back to the first thing I said and the over all image. Me feeling alone in a crowded room.
Depression looks like many things to me, but this is just one of the first things that came to mind when doing this exercise.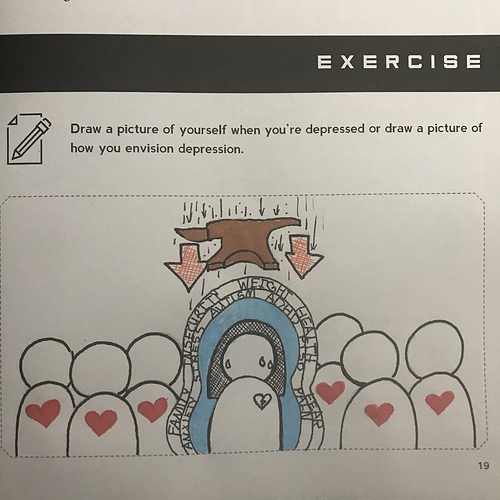 I know that I am not truly alone. And I know that even though those that I love may not always know exactly how I feel or how to relate that it doesn't take away from the love and support that they offer me.
I know a lot of people here fight with depression and I guess the main reason I wanted to share this with you is so you know you aren't alone and there are people who understand. Even if "feels" like nobody cares it doesn't mean it's true. Depression is a liar and it likes to beat down on us.
As I come up close to a year here on the wall. (Just 2 more days) I look back on how far I've come and how much of an impact Heart Support has had on my life. I came here in a bad head space and in a bad condition, but this community has shown me love, forgiveness, understanding and friendship.
I've managed to improve my mentality as a whole even though it's still very much a work in progress. My attitude has improved and my heart is more open than it was when I first came in.
Anyway. I just wanted to share that.