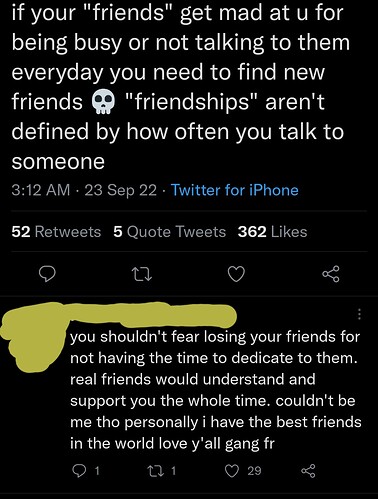 What is everyone's thoughts on this?
Here's my take:
I'm probably in the minority, but I hate it. I hate it so much and I hate how common practice it is. It feels SO DAMN PASSIVE. like 2 people neither of them willing to take the intuitive to MAKE TIME FOR PEOPLE YOU CARE ABOUT??? Why is this an accepted practice? I have a concrete example:
I was really close friends with someone I met online. We talked quite a bit back in the day. They stopped being active online and decided to pursue their own life and career goals to better their IRL life. Perfect, that's amazing for them, I'm happy for them. But in the process they stopped talking to me. Every like 6 months I would give the occasional check in "hey how are ya". No response. 4 years later they finally decide to come back to online for a bit. I'm able to actually talk to them and grab an update from them. Here's what they said: "oh hey yeah I saw your messages but it had been so long it felt weird to respond at that point."
Felt weird to respond at that point?? Well shit who's fault is that??? Suffice to say that friendship ended go figure. Lmao so you can see why I literally do not understand the mindset of those in the tweet picture attached. Y'all say you can be friends after ZERO interaction for YEARS. I call bullshit. I think y'all are just passive, nervous, afraid of confrontation, and don't wanna be the first person to say something because you're afraid of something stupid. Well in my eyes that's not caring about someone. That's not putting in effort. What about the people you're interacting with while you're "busy"? They are also your friends or becoming your friends. And you talking to them on a daily basis because it's convenient. Yeah friendships are not easy to maintain, but if you ain't gonna put in effort to check up on someone, don't be calling it a friendship.