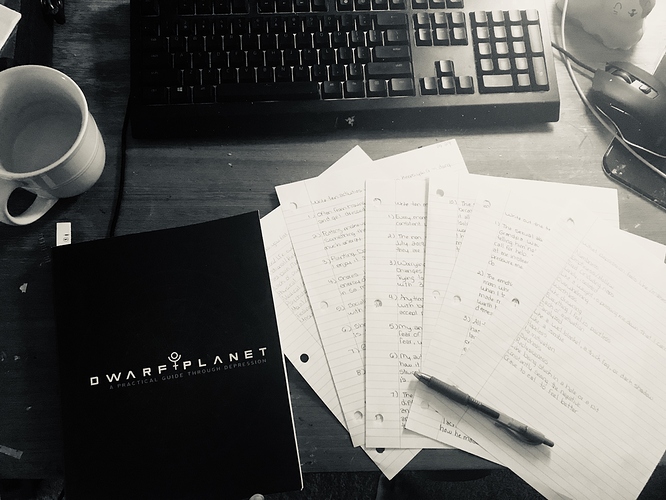 I've been working through Dwarf planet. Like many others here, I struggle through a heavy battle of depression and anxiety. There is a lot of things that weigh on me. But I really want to teach myself how to overcome these things and come out stronger. Often easier said than done.
The first couple chapters of Dwarf Planet ask things like:
What does depression feel like/make you feel?
What are the 10 worst moments of your life?
What are 10 things that have stressed you out recently?
What are ten activities your depression keeps you from doing?
What do you feel is the reason behind your depression?
It helps you connect to the source and reasons behind our depression. Recognizing the patterns within those things.
Depression often leaves us feeling numb, empty, tired, lonely, overwhelmed, worthless, hopeless and with little to no motivation.
You aren't alone my friends if you are feeling any of these things. I notice that a lot of people are having a hard time. If you haven't looked into Dwarf Planet, I further encourage you to get it and try working through it. It's worth it. Heart Support has put these resources in our hands. We should consider using them. Or at least trying. Just a little at a time. For me, I'm taking it a step farther and writing things down more in-depth. You don't have to do that if you don't want to. I'm trying to be open and honest with myself and get it all out there for me to see. So that I can begin to work through the things that bother me.
I hope that more people around the community will find the strength and courage to read through these books. It's felt really good for me to just take a little time out in my day and read through the words that Ben Sledge put together to help others heal. It may not resolve all of our problems, but it's a huge step in understanding ourselves and the things that bother us. And trying to find ways to work through it when we are struggling.
Hold fast, friends.