Do you like gardening? I do. Well… not as much as I wish. In my dreams I am a plant nerd, someone able to identify all these marvelous leaves, branches and roots you can find in nature, just for the sake of saying "this is a [insert_name], did you know that it only grows on rocks?".
Whatever. Knowledge seems so little compared to the act of taking care of a plant, seeing it growing, even flowering sometimes. All of the silent lessons that nature teaches us, including about our hearts and life philosophy.
I have a few plants where I live. I'm such a bad caregiver to them though, which often brings its share of shame and guilt. I see them struggling, begging for water, sun and care. But my mind forgets. It stops seeing them, engulfed in all the internal turmoil, fears and worries that are constantly running through my mind. Too many days I don't see the plants all around. I don't see their life because I don't look at them, too busy trying to figure out my own sorrow.
This morning, I took care of one of them, an African plant commonly called "Elephant bush". My version of it is of course very small and I hope to be able to keep it for a very long time, if not my entire life. It is so resistant, so independent, yet so fragile at the same time. And here it is, the beauty I couldn't help to look at today, silently: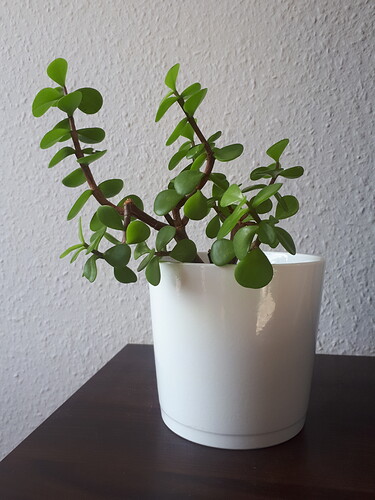 Can you see it? That broken branch. This giant anomaly between the leaves pointing to the sun. This branch that carries the guilt I feel because I mistakenly hit the plant one day while walking next to it.
The little branch relies on a very small part of itself. Yet it's been there for almost a year now. It hasn't fell yet - if it does, it will in due time. At first I thought I should remove it - cut the broken part so it wouldn't look that sad. My reaction was made of guilt and rejection. What I have learned and keep being reminded of though, is how much life there is in this broken branch. Still. Leaves keep growing from it - new ones, bigger ones. The only difference is that cleaning the dust from it requires more delicacy, and patience, which I am gracefully willing to give to it.
I may not be as willing to do it with the broken parts of myself, but I see her thriving each and every day. It is happening, it is real, it is existing in front of my eyes. It looks empty of life but it's not. A vibrant green color keeps growing from it during summer.
So do you.
Life keeps happening even after a shock, even if we look down and are ready to fall. We keep composing with these parts of ourselves and we keep growing both with and without them at the same time. There is an entire universe unfolding in the complexity of a trajectory changing. Creation at its best, with solid roots yet discomfort, perseverance and imperfection. I see now beauty in this branch, and I love it. I'm not grateful for what I've done. Not happy that it is more fragile than before. But what a blessing it is to see resilience at play. I see this on this forum too, a little bit everyday.
One day, this little branch will fall because of its own weight. The new leaves will win and overgrow itself. The plant will be ready to let it go and start healing the scar that would remain, but this time differently, with closure. The root will be ready to be planted in a new place, to be born again and create an entire universe of itself.
You are not broken. You are thriving. You are creating and recreating yourself every day you keep trying, each time you keep breathing. Life is present all around but even more within you. Your resilience is at play because you are here today. No matter where you're at on this process, your willingness to share your story and use it for good is also a gift to this world, to yourself. There are unexpected events and routes to take during this crazy thing called life. Part of ourselves, real or imaginary, that we need to mourn properly. Each of it holds the potential for new leaves and a new type of resilience to be experienced by you.
Your life didn't stop the first time you felt inherently broken. It actually started to unfold in ways you have yet to see and experiment. Give yourself patience. Your roots are strong. Your leaves are magnificent, even when they grow from wounded parts.