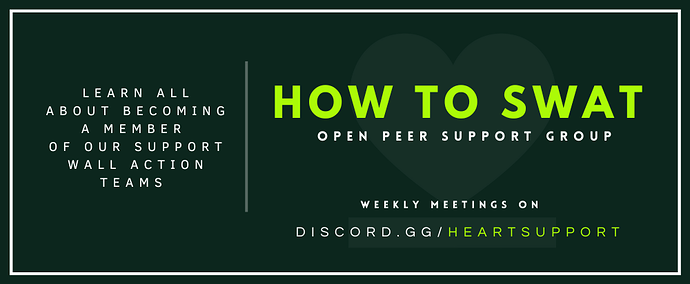 Are you interested in becomong a member of our Support Wall Action Teams and helping to show kindness and encouragement to the people that post on the support wall? then this is the perfect place to start!!
SUNDAY 8TH JAN - 6pm UK/ 10am PST/ 12noon CST
During this one hour group, I will be able to give you all the information you need about how swat groups work, what happens in a swat meeting, answer any questions about swat that you have and you can respond to a couple of posts with me.
I know how intimidating is to want to try something new bur fear being overwhelmed, this meeting is a quiet, relaxed event that will allow you to take your time and ultimataly decide if swat is for you. If you do we can get you signed up with one of our wonderful swat leads.
If you are interested, you can either go over to Discord at the alloted time and drop in or please feel free to message me either here or on Discord.
I hope you can join me.
Lisa