My mind is a mess. Prior to covid and lockdowns I never experienced a real distress that would be caused by the worldwide news. Last year it came to a point for me that so many others have felt: being actively suicidal and determined to not wake up another day in this chaotic world. A huge component of what fills my depression are existential questions that never have any satisfying answer. I'm still learning to accept that sometimes it's okay to reduce my focus and simplify.
Yesterday I've hit this automatic point of being on edge emotionally and physically because of the latest news regarding the ongoing conflicts. Once again. I am completely safe and not suicidal. Though I've spent a huge part of my day yesterday needing to sleep because my anxiety was activated on high mode. My body just shut down as my mind was running on high speed. I had this huge tiredness that prevented me to do or enjoy anything. It's still impressive to me how I can wake up okay and have a good feeling about the day, then ending up completely down and unable to move.
Today it's the opposite. I'm running on speed mode. Breathing is difficult. Thoughts never stop rushing even though I'm not 100% aware of them. It's a stress that doesn't have any practical grip. It's just present, foggy, directionless. I feel like a machine that never stops functioning. I see myself walking way too fast in the tiny spaces of the apartment we live in.
I hate being like this because it's all about reactions that are out of my control. But I'm getting better at seeing it when it happens, and accepting whatever needs to be done to take care of myself, even if it means to put my life under parenthesis. I haven't worked yesterday. I couldn't. But it's okay. The guilt I've been adding to the already existing stress doesn't need to be.
Today I decide to stand up a little more and slow down. Drawing, coloring. Getting this energy out by dancing and singing like silly (sorry neighbors, you didn't sign for that).
All of this to say: I choose beauty. And I'm so grateful to @SheetMetalHead for reminding me of that lately. Heck this world is ugly. My heart is shattered even though I don't feel legitimate to complain. But there is still beauty. The wind is caressing the trees outside. There are people who keep flowering tombs in the cemetery that is in front of where I live. My partner's smile is still the most beautiful on Earth. My heart is full when I think of you, brother. The satisfaction that goes with filling blank spaces on a page with colors is so special. The recognition and love I feel for the friends I have in this community go beyond words. The hope to see my sister again fills me. And hugs. All the hugs of the world that have yet to be given. The music to dance on. The warmth of the sun. The beauty of words. The gifts to send by surprise. The scent of coffee. The weird patterns that clouds leave in the sky. The majestic lights during summer evenings.
People are still crying, hurting, falling, but beauty is also present. It's always there, all around. I am privileged as I have the possibility to choose beauty today. I don't want to walk away from that possibility. I choose beauty not to fool myself with delusions or denial, but to remind myself that the flowers keep growing even during times of profound desperation, could it be physical or lived in our minds.
If you feel any anxiety, helplessness or hopelessness, please don't forget what life is worth for. It doesn't have to be one big, philosophical or heroic reason. You are the hero of your life already.
The very possibility of your smile is enough. It is the expression of your own beauty, of the uniqueness of your existence, one that this world can only be better with. Please don't forget the beauty all around and within. It is brilliant, majestic, meaningful, and so do you.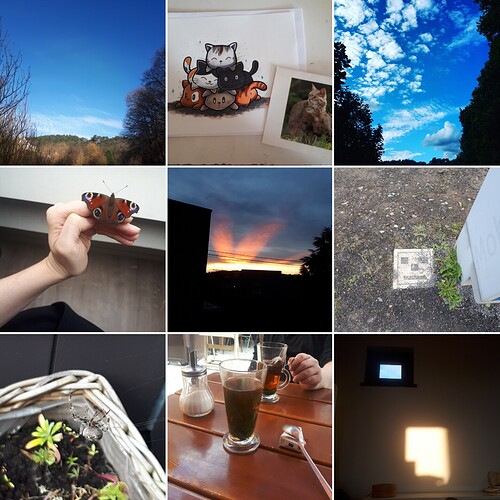 It's all worth it. It's all worth to keep waking up.